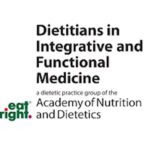 As an integrative and functional Registered Dietitian Nutritionist, my practice focuses on a holistic approach to health and healing, using whole foods and and tailored nutrition supplements to help a person optimize their health.
My assessments focus on finding the root causes of a person's health problems. To do this I look at as many pieces of information or clues as possible….and then connect the dots. I look at all body systems, core imbalances and biomarkers, as well as genetics, metabolic pathways and lifestyle.
Optimal health is more than just managing symptoms. It's about addressing the body's imbalances at its root, where it begins, and implementing  personalized strategies to help the body heal. I do this with nutrient dense foods and supportive supplements as well as lifestyle.
To learn more about the work that I do, visit the website of my professional nutrition group, Dietitians in Integrative and Functional Medicine (DIFM)
Or check out this short video, What do Integrative and Functional Dietitians Do?
FOLLOW ME ON FACEBOOK
SHARE