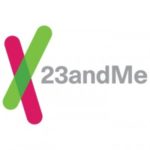 Have you seen all the TV commercials for 23andme (at home genetic testing kits) and Mother's Day?
After all, we have a lot to thank our mothers for. We get half of our genes from our Moms. That's more than just our hair, eye and skin color, stature and weight tendencies, temperament and even natural intellect and talents.
Our genes also impact our health, wellness, and own unique nutritional needs.
Use 23andMe to Get PureGenomics Reports to Optimize Nutrition
Using the PureGenomics platform, I work with clients using their genetic data gathered through 23andme to provide a personalized nutrition program and support their wellness.
The PureGenomics program focuses on clinically researched and nutritionally relevant genes related to weight loss and metabolism, ability to use Vitamins A & D, methylation and B vitamins, detoxification and antioxidant status.
During the consultation I'll provide a complete explanation of the results, which SNPs you have (single nucleotide polymorphisms), and how they are involved on a biochemical level.
I explain also how these SNPs may be expressed and other clues that provide important information like particular signs, symptoms and laboratory values.
What's your take-away? At the end of the session you will have a nutrition plan with personalized nutrition recommendations (food and nutrition supplements) as well as a recommendations for follow-up.

FOLLOW ME ON FACEBOOK
SHARE