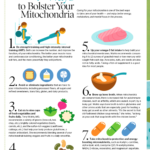 Keeping Mitochondria Healthy
Mitochondria are known as the organelles in our cells that produce energy from the food we eat and the oxygen we breathe.
But what's really exciting, is that scientists have discovered that healthy mitochondria are essential for healthy cellular aging!
What does this mean for you? This means that supporting your mitochondria, keeping them healthy and generating a high density of them (biogenesis), may help support your aging healthfully and gracefully.
Below are 7 Ways to Bolster Your Mitochondria from ExperienceLife.com. 
(Click for the Full Article – The Care and Feeding of Your Mitochondria)
It should be no surprise that eating a clean unprocessed diet with lots of healthy fruits and vegetables and foods high fiber and omega-3 fatty acids are key ways strategies to supporting your mitochondria.
Some nutrition supplements that also bolster mitochondria are Fish Oil, CoEnzyme Q10, Resveratrol, N-Acetylcysteine, and Niagen.

FOLLOW ME ON FACEBOOK
SHARE