Product Description
AnxioCalm 
Clinically Studied Botanical Supplement to Help Relieve Occasional Anxiety, Nervousness, Everyday Stress and Occasional Restless Sleep

Contains Clinically Studied narrow-leaved Coneflower Echinacea angustifolia Root Extract (EP107)
(Standardized for proprietary echinacosides and a unique alkamide profile)
How does AnxioCalm work?
AnxioCalm contains phytonutrients from echinacea shown to support brain receptors associated with feelings of calm and relaxation. It also supports a healthy endocannabioid system.
AnxioCalm supports healthy brain chemistry. This unique supplement is safe, non-addictive fast-acting and effective. It does not cause drowsiness and is not habit-forming.
Researchers at the Hungarian Academy of Sciences in Budapest, Hungary developed the patented extract used in AnxioCalm from the root of narrow-leaved Coneflower Echinacea angustifolia.
---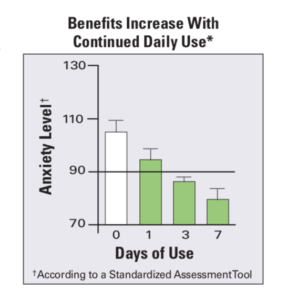 AnxioCalm is Clinically Tested
AnxioCalm provides a unique, clinically studied echinacea.
AnxioCalm has been well studied and has been compared to other anxiety-relieving substances. It not only met or exceeded the effects of the compared substances, it did not cause drowsiness – a common effect of many other approaches.
AnxioCalm was tested with volunteers experiencing increased stress and nervous tension. A standardized questionnaire was used to measure their feelings of anxiety before using AnxioCalm, and compared their responses on 1, 3, and 7 days after taking the specialized extract. After only 1 day of use, the participants experienced a significant reduction of occasional anxiety; the effects of AnxioCalm continued to increase through day 7 of use.
In another published clinical trial, AnxioCalm showed statistically significant effects after only 3 days of use.
---
Frequently Asked Questions for AnxioCalm®:

Q. Isn't echinacea for the immune system?
A. It's true that echinacea is usually known for immune support. And, even though millions of people use echinacea for this purpose, the effects of relief of occasional anxiety haven't previously been reported.

However, one specific species, Echinacea angustifolia (EP107), grown in controlled conditions and processed using special extraction procedures, produces the amount of plant compounds that reduce occasional anxiety, stress, and nervous tension when taken at the recommended dosage.

Q. What makes this ingredient different?
A. The Echinacea angustifolia (EP107) extract in AnxioCalm is different than other echinacea extracts. It has been specially prepared and is clinically studied to show relief of occasional anxiety. Its brain-specific alkamides are able to safely bind to brain receptors that trigger feelings of calm and relaxation. Both the ingredient and the extract have key attributes that set them apart:

Plants are grown in rural areas, away from industry and pollution
Non-GMO
No synthetic pesticides or herbicides
Proprietary alkamides
Plants are harvested and washed by hand, and dry naturally
Gentle, hexane-free extraction process
Independent testing confirms purity and absence of heavy metals, pesticides and microorganisms
AnxioCalm is a Euromedica product.
FOLLOW ME ON FACEBOOK
SHARE