Product Description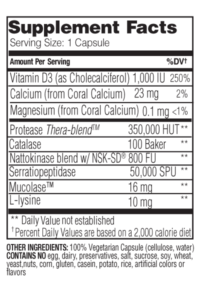 Enzyme Defense™ Pro – Therapeutic Enzymes
Therapeutic Enzyme Blend – for Immune Health Support, Including Cellular Repair and Recovery
With Targeted Proteolytic Enzymes, D3, Minerals and L-lysine
Enzyme Defense Pro contains a high potency proprietary blend of proteolytic enzymes (proteases). These proteases (protein-digesting) are responsible for  regulating the body's digestive and metabolic processes, thus making them essential for cellular function and overall wellness. We get some enzymes from raw foods, and the body makes enzymes, but as people get older, we make less of them.
Supplemental proteases taken orally on an empty stomach have been shown to be absorbed and carried into the bloodstream (rather than working on digesting protein from your food). While in the bloodstream, proteases bind to alpha-II macroglobulin; the bound proteases circulate through the body to become part of the immune system. The proteases function therapeutically by "digesting" undesirable foreign bodies that contain protein (such as bacteria, viruses, yeast); then the body eliminates the remains of the degraded organisms through natural processes of purification.
In addition, the proteolytic enzymes nattokinase and serratiopeptidase support healthy circulation and speed healing. They may also stimulate phagocytes (cells that ingest foreign particles and debris) and accelerate elimination by way of the lymphatic system. Nattokinase has been known to support healthy circulation as a result of its high fibrinolytic (one that breaks down fibrin) and antioxidant activity. Similarly, serratiopeptidase works to support vascular health through improved circulation, tissue repair and anti-edema qualities.
Enzyme Defense Pro is also formulated with L-lysine, an essential amino acid (essential because the body cannot make it) for overall support of a healthy immune system. (Some research suggests that regular L-lysine supplementation may prevent the outbreak of cold sores and herpes simplex; mega doses of L-lysine are used for treating or preventing cold sores.)
Enzyme Defense Pro contains Vitamin D, which has been studied for its support of a healthy vascular system, is essential to innate immunity and for reducing inflammation. Vitamin D also modulates cell growth and differentiation and is well-known for its role in calcium absorption and bone mineralization.
The components of Enzyme Defense Pro promote cellular repair and recovery in addition to encouraging a healthy inflammatory response.
Manufactured by Enzyme Science.
Click for information about the role of enzymes in the body's natural immune response.
FOLLOW ME ON FACEBOOK
SHARE