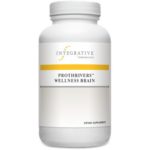 After being out of stock for several months,  I am happy to announce that Prothriver's Wellness Brain is back in stock!
ProThrivers Wellness Brain is intended to support cognition with a unique combination of ingredients that address the sometimes after effect of "chemo brain."

According to the Mayo Clinic website: "Chemo brain is a common term used by cancer survivors to describe thinking and memory problems that can occur after cancer treatment. Chemo brain can also be called chemo fog, chemotherapy-related cognitive impairment or cognitive dysfunction."
The ProThrivers line of products supports overall health of Thrivers by emphasizing key pathways. These products are designed for the special needs of cancer patients following the completion of their treatment.
Beneficial Ingredients, Clinically Studied
ProThrivers Wellness Brain contains the following ingredients found to be clinically beneficial for brain health.
Theracumin – brand of water dispersible turmeric which is highly bioavailable. Curcumin, the primary active constituent of turmeric, is a bioactive polyphenolic compound.
Citicoline – research shows that citicoline may support healthy cognition. It serves as a choline source for the biosynthesis of acetylcholine and phosphatidylcholine. In a study involving elderly adults, citicoline was found to support circulatory brain dynamics and associated function.
Lion's Mane (a mushroom) – Hericium erinaceus, Lion's Mane, has been used in traditional Eastern medicine for many years. Preclinical trials indicate that Lion's Mane may influence the synthesis of nerve growth factor (NGF) which is necessary for the growth and maintenance of neurons.
Acetyl-L-Carnitine – may support mitochondrial function, memory and antioxidant status. It may also have a structural role in peripheral and central nervous tissue.
The ProThrivers Wellness line of products (Brain, Multi, Flavonoids, and Sleep) and has been specifically designed with the guidance of Lise Alschuler, ND, FABNO, a respected naturopathic for over 20 years and an expert in Thriver care. Her present clinical focus is addressing the needs of this specific population of Thrivers using evidence-informed strategies. In addition, Dr. Alschuler is a Thriver herself and uses her own experience to better understand their unique challenges.
FOLLOW ME ON FACEBOOK
SHARE