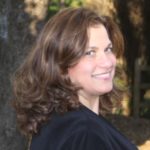 Hi, I'm Janet Zarowitz, MS, RD, CDN, Registered Dietitian Nutritionist in Ossining, NY, in Westchester County, NY, about 1 hour north of New York City. As a integrative and functional nutritionist, I believe that a blend of healthy food, nutrition supplements and lifestyle changes form the basis of good health and feeling better.
In addition to seeing patients in my Ossining, NY office, I also offer Telenutrition (remote nutrition consults). If you are interested in a nutrition assessment and consultation, contact me.
What is functional nutrition? Functional nutrition addresses the underlying root causes of symptoms and diseases and helps the body rebalance and heal. My goal is to provide you with nutrition strategies to help you realize your optimal health.
Many of us today have difficulties with even the basic functions of everyday life — Digestion, Sleeping, Moving (without Pain), Mental Clarity, and Maintaining a Healthy Immune System. Why? What is it about the foods we eat, the environment we live in, and our lifestyles that seems to be affecting the quality of how so many of us feel?
On my website I discuss these issues and offer a "shop" of a select number of nutrition supplements. And, I share with you the experiences of my own personal journey and exploration to feel better and age well.
My website is a place I hope you will visit often –with information about healthy food and lifestyle choices and about "Food and Nutrition Supplements for Everyday Living."
Janet
Janet Zarowitz, MS, RD, CDN
Integrative and Functional Nutritionist
162 Croton Ave, Suite 2
Ossining, NY 10562
914-222-3919
FOLLOW ME ON FACEBOOK
SHARE