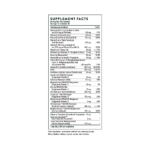 You might have been taking a particular nutrition supplement for a while, and now all of a sudden, it's label looks different!
Did the product change? Does it have a new formulation?
Well, possibly, but most likely the change is due to implementation of a new law: Nutrition and Supplements Facts Labels Rule introduced by the FDA.
The deadline for implementation has been moved back until January 1, 2020 (January 1, 2021 for smaller companies), but some supplement companies have already started making the changes.
For some key details, here are some excerpts from a very complete article on the labeling changes.
---
Revisions to Daily Reference Values (DRV) and Reference Daily Intakes (RDI) and Potential Implications
FDA made a significant number of changes to several Dietary Reference Values (DRV) and many Reference Daily Intakes (RDI). Most vitamins and minerals had their RDI for adults and children age four and older revised.
The vitamins and minerals for which the RDI was reduced include:
Biotin has decreased from 300 mcg to 3 mcg.
Chloride has decreased from 3,400 mg to 2,30 mg.
Chromium has decreased from 120 mcg to 35 mcg.
Copper has decreased from 2 mg to 0.9 mg.
Molybdenum has decreased from 75 mcg to 45mcg.
Pantothenic acid has decreased from 10 mg to 5 mg.
Riboflavin has decreased from 1.7 mg to 1.3 mg.
Thiamin has decreased from 1.5 mg to 1.2 mg.
Niacin has decreased from 20 mg to 16 mg.
vitamin B-6 has decreased from 2 mg to 1.7 mg.
vitamin B-12 has decreased from 6 mcg to 2.4 mcg.
Selenium was decreased from 70 mcg to 5 mcg.
Zinc has decreased from 15 mg to 11 mg.
The vitamins and minerals which had their RDI for adults and children age four and older increased:
Calcium has increased from 1,000 mg to 1,300 mg.
Magnesium has increased from 400 mg to 420 mg.
Manganese has increased from 2 mg to 2.3 mg.
Phosphorus has increased from 1,000 mg to 1,250 mg.
Potassium has increased from 3,500 mg to 4,700 mg.
Vitamin c has increased from 60 mg to 90 mg.
Vitamin k has increased from 80 mcg to 120 mcg.
---
Using Different Units of Measure
Several vitamins will now need to be declared using different units of measure. In the case of vitamins A, D and E, International Units (IU) will be replaced by metric units, such as micrograms of Retinol Activity Equivalents (mcg RAE) for vitamin A; micrograms for vitamin D and mg for vitamin E. For vitamin D, however, IU may continue to be used in addition to mcg. Also, folate must now be declared as micrograms of "Dietary Folate Equivalents" (mcg DFE) instead of simply mcg.
The revised RDIs for these four vitamins are:
vitamin A 900 mcg RAE (from 5000 IU)
vitamin D 20 mcg (800 IU) (increased from 10mcg or 400 IU)
vitamin E 15 mg (from 30 IU)
folate 400 mcg DFE (from 400 mcg)
Because of the change in declaring units of measure, the magnitude of the change in the RDI for vitamins A and E will vary depending on the form of the vitamin being used in a particular product. For folate, the change to DFE is significant because folic acid, commonly used in multivitamins, is considered to be more bioavailable than folate naturally occurring in food. According to the final rule, 1 mcg DFE is equivalent to 1 mcg of naturally-occurring folate, which is equivalent to 0.6 mcg folic acid. This means that a dietary supplement product providing 100 percent of the DV for folate (i.e., 400 mcg DFE folate) will only contain 240 mcg folic acid, which is below the recommended amount (400 mcg folic acid) to prevent neural tube defects. This is just one sample of the type of issues dietary supplement companies will need to consider when evaluating the implications and impact of the revisions in the rule on various types of products.
---
In addition, the final rule also:
determined a single set of RDIs for pregnant and lactating women
new RDIs for infants and children under 4 years
new RDI for choline
DV for dietary fiber was increased to 28g
new DV of 50 g for added sugars established.
DRV for fat was increased to 78 g
DRV for carbohydrates was decreased to 275 g
DRV for sodium was decreased from 2,400 mg to 2,300 mg

FOLLOW ME ON FACEBOOK
SHARE