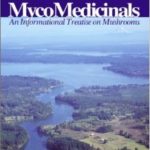 Mushrooms Support Immunity
Clinical studies show that many species of mushrooms support the body's immune system.
Each mushroom species has its own unique chemistry and individualized therapeutic properties.
Mushrooms can be eaten as part of your diet or taken as supplements to support immune health.
Examples of how mushrooms support immune health:
Some mushroom species fight foreign invaders via antibacterial, anti-Candida and/or antiviral properties.
Some mushroom species have compounds that can modulate the immune system.
Some mushrooms are antagonistic to specific cancers such as breast cancer, leukemia, lung cancer, prostate cancer, and colorectal cancer.
Examples of Mushrooms with That Support Immunity
Agarikon, Amadou, Artist's Conk, Birch Polypore, Chaga, Cordyceps, Enokitake, Lion's Mane, Maitake, Mesima, Oregon Reishi, Reishi, Royal Sun Blazei, Shiitake, Split Gill Polypore, Turkey Tails, and Zhu Ling.
My Interest in Mushrooms and Wellness
I was first introduced to the medicinal properties of mushrooms at integrative healthcare conferences. Subsequently I learned that integrative physicians incorporate medicinal mushrooms into their immune health regimens and that medicinal mushrooms have are used as an adjunct to chemotherapy.
Veterinarians also use medicinal mushrooms for animals with cancer. My friend's veterinary oncologist shared promising research on mushrooms and dogs with a particular aggressive cancer that her dog had. The vet's holistic approach included a mushroom supplement that complemented the dog's regular chemotherapy treatments.
Click for more information on mushrooms and their compounds that support immunity.
Have you seen the Fantastic Fungi movie? You'll be amazed to learn about how mushrooms can support our health and the health of our planet!
Check out the article in Today's Dietitian – Integrative Nutrition: Mushrooms as Medicine which includes an interview with Janet Zarowitz, MS, RD, CDN.
FOLLOW ME ON FACEBOOK
SHARE