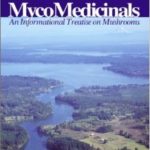 Mushrooms Support Immunity
Clinical studies show that many species of mushrooms support the body's immune system, in one way or another.
Each mushroom species has its own unique chemistry and individualized therapeutic properties.
(Most mushrooms work in multiple ways.) Mushrooms are good for immune health whether you eat them as part of your diet or take them as supplements.
For example,
Many mushroom species fight foreign invaders through antibacterial, anti-Candida and/or antiviral properties.
Many species have compounds that can modulate the immune system.
Others are antagonistic to specific cancers like breast cancer, leukemia, lung cancer, prostate cancer, colorectal cancer, to name a few.
My Interest in Mushrooms and Wellness
I have attended many integrative health conferences and interacted with representatives of many supplement companies, however, medicinal mushrooms seemed too weird for me, so I put off investigating them.
However, after learning that highly respected integrative physicians (including Andrew Weil, MD) prescribe medicinal mushrooms for immune health, I opened up to becoming knowledgeable about them and trying them myself. (They are now one of my daily supplements.)
I also felt validated that medicinal mushrooms are becoming more mainstream when my friend's exceptionally trained veterinary oncologist shared promising research on mushrooms and dogs with a particular aggressive cancer that her dog had. The vet's holistic approach included a mushroom supplement that complements the dog's regular chemotherapy treatments.
Examples of Mushrooms with That Support Immunity
Agarikon, Amadou, Artist's Conk, Birch Polypore, Chaga, Cordyceps, Enokitake, Lion's Mane, Maitake, Mesima, Oregon Reishi, Reishi, Royal Sun Blazei, Shiitake, Split Gill Polypore, Turkey Tails, and Zhu Ling.
Click for more information on mushrooms and their compounds that support immunity.
Have you seen the Fantastic Fungi movie released in 2019? You'll be amazed to learn about how mushrooms can support our health and the health of our planet!
Check out the article in Today's Dietitian – Integrative Nutrition: Mushrooms as Medicine which includes an interview with Janet Zarowitz, MS, RD, CDN.
FOLLOW ME ON FACEBOOK
SHARE